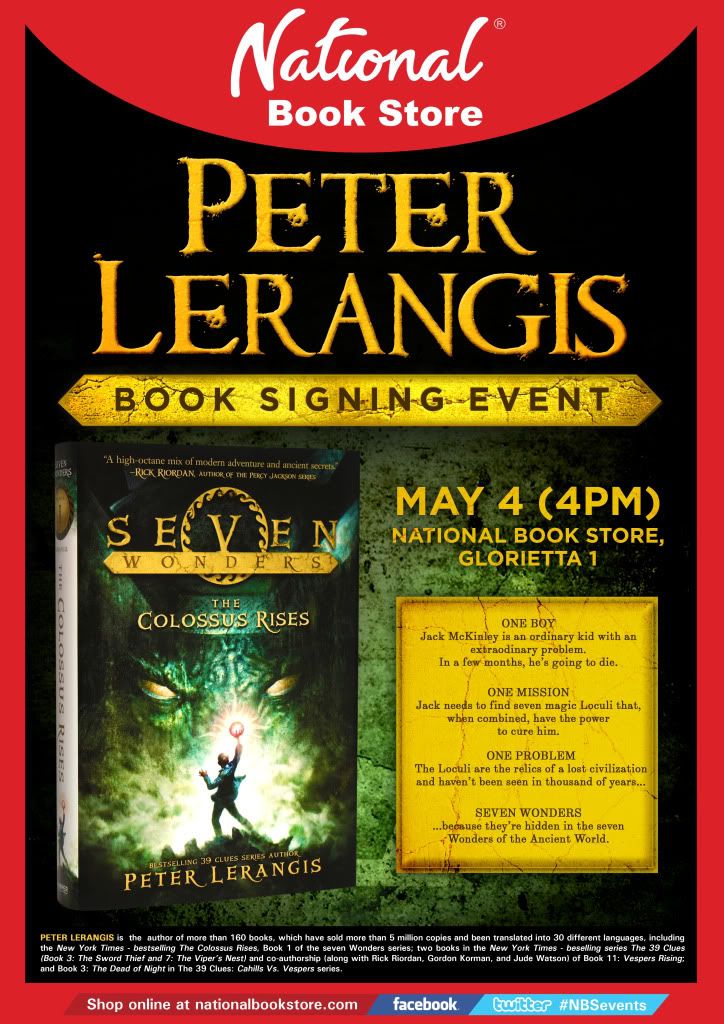 EVENT BOOK SIGNING: PETER LERANGIS
WHEN MAY 4, 2013 / 4 PM
WHERE NATIONAL BOOK STORE BOOTH AT THE KOMIKON, BAYANIHAN CENTER, UNILAB COMPOUND
Described by Publishers Weekly as "a real page-turner," The Colossus Rises narrates the extraordinary problem of thirteen-year-old Jack McKinley who is told he has six months to live. After being kidnapped and brought to a mysterious island, he learns that he and three other kids must set on a mission, planned by a secret organization, to retrieve seven lost magical Loculi that, if mixed correctly, can save his life. However, the Loculi are relics of lost civilization and haven't been seen in thousands of years.
Peter Lerangis is the author of more than 160 books including the New York Times bestselling The Colossus Rises, book one in his new series the Seven Wonders. His books have sold more than five million copies and been translated into 30 different languages. He was the man behind the two books in the New York Times bestselling series The 39 Clues – The Sword Thief and The Viper's Nest and co-author of Vespers Rising and The Dead of Night in The 39 Clues: Cahills Vs. Vespers series, along with Rick Riordan, Gordon Korman and Jude Watson. He has conducted workshops in the National Book Foundation and the Highlights Foundation among others and visited schools all over the world for humorous and informative presentations.
Frequently Asked Questions
How many books can I have signed?
You may have any number of books signed as long as they were purchased from National Book Store, Bestsellers or Powerbooks. However, although we will take every effort to get as many books signed as possible, we reserve the right to limit the number of copies per person depending on how many attend the event. First come, first served.
Do I need to buy on-site?
No. You can buy books before or during the event.
Can I bring old books or other editions of the books?
Yes, as long as the books were purchased from National Book Store, Bestsellers and Powerbooks.
Is there a registration fee?
No. There is no registration fee.
Can we have our photo taken with the author?
Yes, you can have your photo with the author when he signs your book. However, we strictly allow one photo per person only.
How much are the books?
Seven Wonders, Book 1: The Colossus Rises (Hardcover) is P629. Seven Wonders, Book 1: The Colossus Rises (Trade Paperback) is P349.
When will the registration be?
Registration opens at 11:00 AM on May 4. Each guest will be asked to fill out the registration form upon arrival.